LIGHT UP
THE GAME
NEVCO creates scoring systems for every team of every size.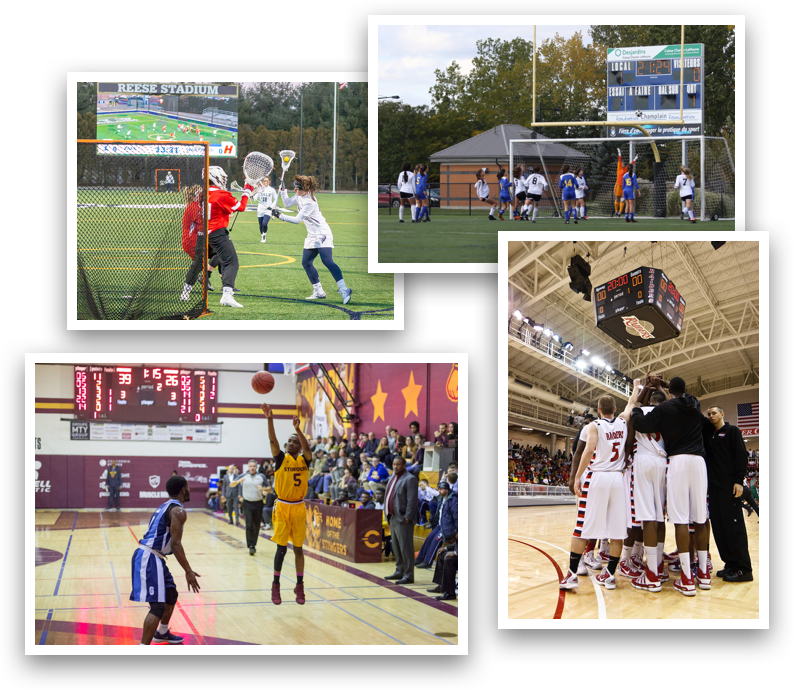 LOOKING TO UPGRADE YOUR FACILITIES?
We know how important sports are to your schools and communities. There's nothing quite like the thrill of sitting in the stands and cheering your team to victory. Whatever the sport or level of play, Nevco is here to help make your game-days unforgettable.
Design your own custom scoring solution using our interactive scoreboard builder tool. The options are nearly endless!
CREATING A WINNING SCORING OR DISPLAY SOLUTION IS EASY
Want to stop losing points with players and fans? Here's our simple game plan.   
1
SET UP A FACILITY EVALUATION
We'll examine your facility and help you select the most fitting options. We hustle to deliver your estimate and free graphical renderings as quickly as possible. 
2
CUSTOMIZE YOUR SCORING SOLUTION
Our team of designers will create free visual renderings and won't stop until your design is perfect. We manufacture all of our products in-house and deliver quickly.
3
BE THE FAN FAVORITE
Watch the next game shine, the community cheer, and the sponsors flock.
SCORING SYSTEMS FOR EVERY TEAM OF EVERY SIZE
Create a brilliant game day with our custom scoring and display solutions.
NEVCO DIGITAL DISPLAYS
Bold lights and brilliant colors from LED displays help fans feel like they're part of the action and provide you with nearly unlimited digital inventory to sell to sponsors. We manufacture our LED displays in-house with the highest quality globally-sourced components.
Video displays

Digital marquees
LED scorer tables
Message Centers
NEVCO SCOREBOARDS
Whatever your team size or sport, you can count on Nevco for an indoor or outdoor scoring system.
Scoreboards for football

Scoreboards for basketball
Scoreboards for baseball & softball
Scoreboards for all sports
NEVCO SPORTS MARKETING
Our sports marketing division focuses on generating advertising partnerships that will assist in funding your scoring solution needs or maximizing your existing equipment to provide long-term revenue streams.
Revenue generation

New scoring solutions at little or no cost

Enhanced game-day experience
GAME-WINNING PRODUCTS
Nevco's quality products are designed to level up game-day like never before. We are your full-service scoring solution partner, offering game-winning products such as the following in addition to our scoreboards and displays:
THE SCOREBOARD NEVER LIES
Lowest

cost of ownership

in the industry

Exciting experiences for fans
Attract more

sponsors and advertisers

Feel confident you've invested wisely for the future of sports in your community
Rest easy knowing

support

will always come fast and reliably from Nevco, never a third party

Comprehensive stadium sound systems, custom graphics, sports marketing, and more
WHO WE SERVE
Nevco's scoring solutions are for every level of play, from little leagues to colleges and universities. Our full suite of scoreboards, timers, video displays, accessories, signage, and more keep fans informed and involved. We serve the following industries with their scoring needs, whatever the sport or setting:
OUR FANS ARE CHEERING
Creating amazing game-day experiences for all our great clients.

EVERY TEAM DESERVES TO HAVE A BRILLANT GAME DAY.
Like you, we care about the future of your teams and your communities. That's why we take such care in delivering a scoring solution that's spot on for your team. We may be the oldest scoreboard manufacturer in the country, but we only do one thing old school: customer service. We'll walk you through customizing your LED scoreboard or digital displays and stick around to support you. It's the Nevco way.