Customizable Little League Scoreboards
Since 1934, Nevco has maintained a reputation of excellence in creating quality, customized scoreboards and video displays. Our digital scoreboards and LED video boards provide fans with real-time game updates and can help create memorable moments for players, parents, families, and friends.
The Importance of Little League & Youth Sports
Introducing children to sports at a young age teaches them valuable life lessons, such as good sportsmanship, teamwork, and positive competition. Little league and youth sports programs aim to teach kids the fundamentals of the game, helping them develop new skills or refine existing ones. The instructional nature allows children to gain confidence in their abilities and the opportunity to create lasting friendships.
What better way to teach children the basics of a sport than by immersing them in the game and using a scoreboard as an educational tool? Each foul, free throw, goal, touchdown, pitch, or penalty can present a new lesson when displayed on the board. It encourages hands-on, visual learning and physical activity.
Little League & Youth Scoreboards
Nevco manufactures scoreboards for every sport at every level. Although little league scoring systems don't require every add-on or accessory, our product line includes everything needed to keep fans and players informed.
T-Ball, Baseball, & Softball
Baseball has long been America's favorite pastime. Youth T-ball, coach pitch, baseball, and softball leagues prepare children for a lifetime of play. Little leagues teach kids throwing, catching, batting, field positioning, and more. Elevate little league game day with our selection of baseball scoring systems:
Basketball
Youth basketball leagues focus on developing necessary skills such as dribbling, passing, shooting, and rebounding. Furthermore, children learn the importance of having fun while competing. Whether part of a youth sports organization, parks and recreation league, or community center program, Nevco's basketball scoring systems keep all players, coaches, referees, and spectators involved:
Volleyball
Beginner volleyball players learn fundamentals like setting, hitting, underhand serving, blocking, digging, and passing. As a team sport, volleyball teaches players and fans how to compete as a unified group. Our selection of quality volleyball scoring solutions can elevate youth practices, games, and tournaments:
Single-sided

volleyball scoreboards

capable of displaying scores, matches, and more

Multi-sport, intelligent caption™ scoreboards with team customization options

Scorers tables that allow every substitution's recording
Soccer
Youth soccer leagues aim to teach and develop essential skills such as passing, dribbling, receiving, and footwork. Perhaps one of the most popular little league sports, soccer emphasizes a positive competitive environment for all involved. Nevco's suite of scoring products can significantly benefit youth soccer programs:
Basic outdoor

soccer scoreboards

indicating score, time, and half

Intelligent caption™ soccer scoring systems allowing team name personalization

Larger

scoreboards

displaying shots, saves, corner kicks, and more
Flag Football
Football is one of America's favorite sports, so it's no surprise that numerous parents enroll their children in little league programs. Recreational or organizational flag football is an excellent way to teach kids the basics before tackling. You can trust Nevco's US-manufactured products to help youth teams develop their passing, receiving, and defending skills:
Hockey
Youth ice hockey leagues teach children the basics of skating, stopping, dribbling, passing, and shooting. Our selection of hockey scoring solutions is fully equipped to help visually teach kids the concepts of periods, goal scoring, penalties, and more:
Single-sided

 or

4-face

boards displaying information ranging from score and period to shots on goal, penalties, players, team logos, and more

Goal lights

mounted onto the glass, rink boards, or wall posts
Nevco Steps Up to the Plate With Little League World Series
The Little League World Series™ needed state-of-the-art video displays and baseball scoreboards that could help enhance fans' game-day experience. Nevco provided the Little League World Series™ with scoring solutions that showcased every aspect of the game, creating an immersive experience for the players and fans.
Get Started With Your Little League Scoreboards
As a leading scoreboard manufacturer, we at Nevco believe every team of every size deserves an excellent game day experience. Our extensive product line considers all leagues, from basic information geared towards teaching the fundamentals to center-hung and LED video displays.
When you choose Nevco, you receive a team of professionals standing by you throughout your project. We begin with a facility evaluation, where we assess your needs. Next, we design, manufacture, and install your new scoring solution. Then, we're here for any service and support you need.
Request a quote for your little league scoreboards today!
CONTACT US TO RECEIVE A FREE QUOTE
THE NEVCO DIFFERENCE
We understand that a new scoring system is a big investment. It's why we take pride in delivering a scoring solution that's spot on for your team, and why we stand by every product.

FREE FACILITY ASSESSMENT
Our customization process ensures you get exactly what you want.
99.9% ON-TIME DELIVERY
We deliver your scoring solution on-time right when you expect it.

LOWEST COST OF OWNERSHIP
Get the most from your investment, backed by a 5-year warranty.

ONE CALL FOR SOLUTIONS & SUPPORT
As an integrated manufacturer, we are the only call you need to make.
HIGHEST QUALITY COMPONENTS
Nevco's U.S. manufacturing plants utilize the UL certification process ensuring product safety.
FUNDING OPTIONS
Get assistance in buying your next scoring solution.
SPORTS MARKETING
With sports marketing, your scoreboard can pay for itself. We can help you get new equipment and create new revenue streams through sponsorships and advertising.
LEASING
Nevco has many options to make your investment affordable. We can work with you to find a solution that fits into any budget.
BUYING CO-OP
Nevco partners with national and local buying cooperative memberships to provide customers an easy way to meet bid compliance requirements and offer discounted pricing on our most popular products.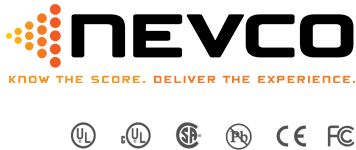 WE GUARANTEE A WIN
Nevco scoreboards, marquees, message centers, Stadium Pro loudspeaker enclosures and video boards* are guaranteed for a period of five (5) years* from the date of invoice against defects in workmanship or material and will be replaced or repaired without cost to the owner provided the equipment or parts (which includes LED segments) are returned postage-paid to the Nevco factory.