YALE UNIVERSITY TAKES REESE STADIUM TO NEW HEIGHTS WITH NEW NEVCO VIDEO DISPLAY, SCORING AND AUDIO SOLUTION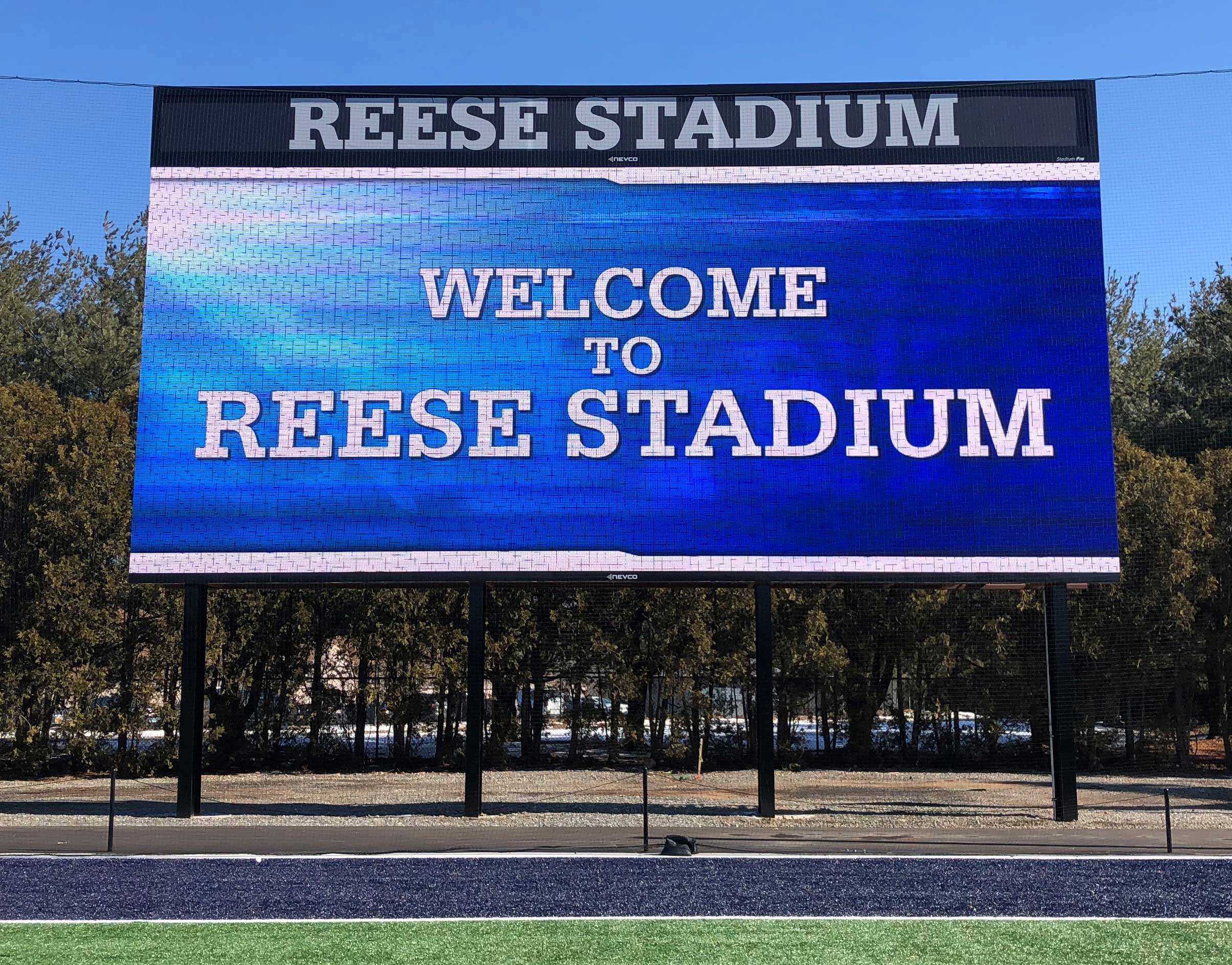 GREENVILLE, IL, February 28, 2019 – Yale University in New Haven, CT collaborated with Nevco to bring a brand new Video Display, Scoring and Audio Solution to Reese Stadium, which houses four of the Bulldog's teams including the 2018 NCAA DI Men's Lacrosse National Champions.
Reese Stadium is one of the finest multi-purpose athletic venues in collegiate athletics, and has been further enhanced by a new Nevco full color, 10mm LED Video Display and Stadium Pro™ 1000 Sound System. The video display stretches over 44'W and stands more than 19'H, offering over 774,000 vibrant pixels to grab the attention of fans and get them on their feet.
At the top of the structure, covertly hidden behind a mesh sound scrim prominently displaying REESE STADIUM sits the Stadium Pro™ 1000 Sound System. The sound system brings the noise, delivering fans a concert-like audio experience audible from every seat in the stadium. From pre-game music, player introductions, and complementary HYPE graphics to support the announcer's commentary, the new video display, scoring and audio solution will provide an experience not soon to be forgotten by fans.
"We are grateful to have the opportunity to work with Yale to provide such an exceptional upgrade to Reese Stadium," said Eric Light, Nevco Vice President of Sports Video. "The new video display, Stadium Pro™ Sound System, and scoring upgrades will completely revamp the stadium, bringing a renewed energy to fans attending Bulldogs games."
Yale University worked with Nevco's HYPE Creative Services to develop and create numerous custom branded graphics and fan prompts to showcase on the new video display, including logo animations, fan prompts, and more. The Bulldogs will control their video display with the MotionRocket Sports Video Control System Software, allowing for any combination of thrilling live in-game action, instant replays, fan prompts, sponsorship messages, and animated graphics to engage fans and enhance the game-day atmosphere at Reese Stadium.
Rounding out the Bulldogs' upgrades are a Model 3680 scoreboard featuring Intelligent Captions™, which automatically changes sports between lacrosse, soccer, football, baseball, or softball, a Model 5633 with additional penalty timers, and LED Shot Clocks with 24" Digits and 14" Game Timers. Reese Stadium's new additions all call for attention with Nevco's new translucent white digits.
"Coming off of the 2018 Men's Lacrosse National Championship, we wanted to make enhancements to the stadium that match the quality of play from our four varsity teams who compete there." said Kevin Discepolo, Assistant Athletic Director of Facilities, Operations, and Events at Yale University. "Nevco has been a great partner in bringing that vision to a reality. With the lacrosse seasons starting, we're excited to see the new dynamic that the new Nevco video board and sound system will bring to our fans and players at Reese Stadium."
The project was completed in anticipation of the men's and women's lacrosse seasons, debuting on February 16 in a men's lacrosse match up against Villanova.  Check out the project installation photo below and be sure to check out nevco.com to see more live install photos!
About Nevco: Nevco is the largest private manufacturer and provider of video display, scoring and audio solutions. For over 80 years, Nevco has provided colleges, universities, high schools, park and recreation groups, and other organizations with the most innovative scoring and LED video display products in the industry. Nevco is known for its specialty in designing custom facility solutions, quality of products, and superior long term financial value. Today, Nevco scoreboards, message centers and video displays are used to enhance the fan experience at events in more than 100,000 locations around the world. For more information on Nevco, visit their website at nevco.com.