VIDEO DISPLAYS, DIGITAL MARQUEES, LED MESSAGE CENTERS, & LED SCORERS TABLES
Easily communicate and captivate with Nevco's digital displays. 
VIDEO DISPLAY SCORING SYSTEMS
Whether you have a dedicated facility or a multisport field, a LED video display gives each team time on the big screen, engages fans, and maximizes sponsor exposure while generating revenue for your school. Video boards give you control, so you can create dynamic graphics and show more than just the score.
VIDEO DISPLAYS
Imagine cheers erupting and fans' eyes glued to the video board to see the instant replay.  The sense that we're all in this together. Bold lights and brilliant colors from video displays help fans feel like they're part of the action. We'll listen to your vision for your facility and help you bring it to life.
DIGITAL MARQUEES
Use digital marquees to enhance your organization's reputation, communicate well, or boost team spirit.
LED MESSAGE CENTERS
Find an indoor or outdoor message center to compliment your scoreboard.
SCORERS TABLES
Engage fans from the sidelines with non-lit or LED scorers tables.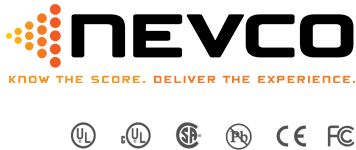 WE GUARANTEE A WIN
Nevco scoreboards, marquees, message centers, Stadium Pro loudspeaker enclosures and video boards* are guaranteed for a period of five (5) years* from the date of invoice against defects in workmanship or material and will be replaced or repaired without cost to the owner provided the equipment or parts (which includes LED segments) are returned postage-paid to the Nevco factory.