BASEBALL & SOFTBALL SCOREBOARDS
View custom scoring solutions with pitch count displays, video displays, and inning-by-inning scoreboards for baseball and softball. Start basic and upgrade as you go – only Nevco offers cost-effective quality you can trust.
BASKETBALL SCOREBOARDS
Explore a range of scoreboards for basketball, volleyball, and wrestling. Boost your game-days with scorers tables, video boards, and other scoring solutions for junior high, high school, college, and professional-level gymnasiums and arenas.
FOOTBALL SCOREBOARDS
Find any type of football scoring solution, from basic electronic football scoreboards with delay-of-game timers to larger-than-life video displays with instant replay and virtual scoring capabilities. With Nevco, Friday night lights will never be the same.
HOCKEY SCOREBOARDS
We offer a full lineup of hockey scoreboards, from wall-mounted systems to center-hung video displays. Add to the excitement of every goal with state-of-the-art goal lights.
LACROSSE SCOREBOARDS
Lacrosse scoring systems from Nevco range from basic electronic scoreboards to full-colored LED digital solutions. Also, check out our field timers and portable shot clocks.
SOCCER SCOREBOARDS
Get weather-proof outdoor scoreboards for soccer with optional video capabilities for your team. Custom design your soccer scoreboard and upgrade it anytime as your needs change. Nevco has you covered.
MULTISPORT SCOREBOARDS
Nevco's Intelligent Caption™ multisport scoring solutions are like getting seven electronic scoreboards in one!
Outdoor multisport scoreboards can score: football, soccer, lacrosse, field hockey, baseball, softball, and track. 
Indoor multisport scoreboards for gyms can score: basketball, volleyball, and wrestling. 
Multisport scoreboards enable you to customize the home and guest team names and change the sport scoring mode through our easy-to-use scoreboard software. 
TRACK & FIELD SCOREBOARDS
Every Nevco track and field scoring solution contains the highest quality weather-resistant components and integrates with FinishLynx® track results software. With a Nevco track and field scoreboard, you can display times and stats like never before.
TENNIS SCOREBOARDS
Love your new Nevco tennis electronic scoreboard because it's designed and manufactured with the highest quality weather-resistant components. Whether simple or in-depth, you can count on Nevco to create the perfect custom tennis scoring solution with lasting support.
SWIMMING SCOREBOARDS
Dive into a range of swimming and aquatics scoreboards customized to your facility and your team. Display your mascot and garner sponsorship revenue in one place.
CHOOSE NEVCO FOR YOUR ELECTRONIC SCOREBOARDS & VIDEO DISPLAYS
At Nevco, we take pride in our high-quality electronics and manufacturing processes. Since 1934, our reputation has rested on long-lasting products and superior customer service.
We offer a full suite of electronic scoreboards, LED video displays and message centers, accessories, and services so we can be a one-stop shop for all your scoring needs. Whatever the sport or level of play, Nevco is your team.
Speak with a Nevco consultant today to get started with your custom scoring solution.
THE NEVCO DIFFERENCE
We understand that a new scoring system is a big investment. It's why we take pride in delivering a scoring solution that's spot on for your team, and why we stand by every product.

FREE FACILITY ASSESSMENT
Our customization process ensures you get exactly what you want.
99.9% ON-TIME DELIVERY
We deliver your scoring solution on-time right when you expect it.

LOWEST COST OF OWNERSHIP
Get the most from your investment, backed by a 5-year warranty.

ONE CALL FOR SOLUTIONS & SUPPORT
As an integrated manufacturer, we are the only call you need to make.
HIGHEST QUALITY COMPONENTS
Nevco's U.S. manufacturing plants utilize the UL certification process ensuring product safety.
FUNDING OPTIONS
Get assistance in buying your next scoring solution.
SPORTS MARKETING
With sports marketing, your scoreboard can pay for itself. We can help you get new equipment and create new revenue streams through sponsorships and advertising.
LEASING
Nevco has many options to make your investment affordable. We can work with you to find a solution that fits into any budget.
BUYING CO-OP
Nevco partners with national and local buying cooperative memberships to provide customers an easy way to meet bid compliance requirements and offer discounted pricing on our most popular products.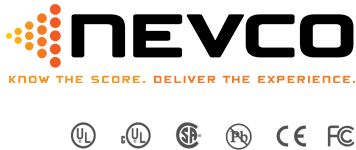 WE GUARANTEE A WIN
Nevco scoreboards, marquees, message centers, Stadium Pro loudspeaker enclosures and video boards* are guaranteed for a period of five (5) years* from the date of invoice against defects in workmanship or material and will be replaced or repaired without cost to the owner provided the equipment or parts (which includes LED segments) are returned postage-paid to the Nevco factory.