DESIGN A CUSTOM SCOREBOARD WITH NEVCO
Our online custom scoreboard designer tool allows you to select color, striping, home/guest names, signs, trusses, and more—all customized to your liking. Once you finalize your scoreboard design, click the "Request A Quote" button. A Nevco Sales Consultant will reach out to further personalize your scoring solution with the team name, mascot, logos, or lettering. Bring your vision to life and design a custom scoreboard with Nevco today!
MOST POPULAR BASKETBALL SCOREBOARDS
Nevco's suite of basketball scoreboards ranges from basic score and timekeeping systems to Intelligent Caption™ capabilities to accommodate multipurpose facilities. Inform fans and boost ad revenue through sponsorship opportunities.
MOST POPULAR BASEBALL & SOFTBALL SCOREBOARDS
Our custom baseball and softball scoring solutions can display inning-by-inning stats, pitch count, hits, errors, and more. Plus, with the help of Nevco's Sports Marketing services, you can attract sponsorships and benefit your athletic programs.
MOST POPULAR FOOTBALL SCOREBOARDS
Make Friday Night Lights even more electric by designing a custom Nevco football scoreboard. Take advantage of Electronic Team Names (ETN) and school colors or add logos and mascots to increase fan engagement.
MOST POPULAR HOCKEY SCOREBOARDS
No goal, penalty, or power play will go unnoticed when you design a scoreboard with Nevco. Our hockey scoreboards include all the necessary components and accessories to light up the ice.
MOST POPULAR LACROSSE SCOREBOARDS
From score and period to shots and saves, Nevco's lacrosse scoreboards keep fans up-to-date with every play. Choosing our lacrosse scoring solutions grants you unparalleled quality and several customization options.
MOST POPULAR SOCCER SCOREBOARDS
Whatever your level of play, we have the perfect soccer scoreboard for you. With Electronic Team Name and Intelligent Caption™ capabilities, your custom scoring solution from Nevco will be a cut above the rest.
MOST POPULAR TRACK SCOREBOARDS
Every race and field event is accounted for with Nevco's line of track scoreboards. With Lynx System Developers a part of the Nevco family, you also gain access to seamless integration with industry-leading FinishLynx Advanced Timing Systems.
MOST POPULAR TENNIS/BEACH VOLLEYBALL SCOREBOARDS
Small, large, basic, detailed – Nevco has it all. Take your tennis and beach volleyball matches and tournaments to the next level with our state-of-the-art scoring systems. Design a custom scoreboard and receive a long-lasting solution you'll love.
DESIGN A CUSTOM SCOREBOARD TODAY
When you design a scoreboard with Nevco, you can be confident knowing that your system contains the highest quality electronics and manufacturing processes. Since our founding in 1934, we've staked our reputation on lasting products and superior customer service. 
Creating a brilliant game-day is easy with Nevco. Design your scoring system and speak with a consultant today!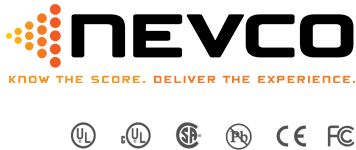 WE GUARANTEE A WIN
Nevco scoreboards, marquees, message centers, Stadium Pro loudspeaker enclosures and video boards* are guaranteed for a period of five (5) years* from the date of invoice against defects in workmanship or material and will be replaced or repaired without cost to the owner provided the equipment or parts (which includes LED segments) are returned postage-paid to the Nevco factory.