FOOTBALL SCOREBOARDS
Lowest cost of ownership in the industry and guaranteed support from us, never a third party.
FOOTBALL SCOREBOARDS, VIDEO DISPLAYS, AND MORE
Getting the right football scoreboard for your team and your facility is complicated. Will the scoreboard be used for other sports, tournaments, or even non-athletic events? Is it important to display your logo or feature community sponsors? Nevco makes sure every team gets the solution that fits their needs, from high school to college to pro teams. Whether you're looking for a basic football scoreboard, a professional stadium sound system, or a larger-than-life video display, we will guide you to the best solution.
FOOTBALL VIDEO DISPLAY SCORING SYSTEMS
Whether you have a dedicated facility or a multisport field, a LED video display gives each team time on the big screen, engages fans, and maximizes sponsor exposure while generating revenue for your school. Video boards give you control, so you can create dynamic graphics and show more than just the score.
FOOTBALL SCORING UPGRADES & ADD-ONS
FOOTBALL VIDEO BOARDS
Whether you have a dedicated facility or a multisport field, LED football video displays create a dynamic atmosphere, maximize sponsor exposure, and generate revenue for your football team.  To elevate the game further, bring your football video scoreboard to life with NEVCO Creative Services to create customized football team intros, kiss cams, sponsor graphics, and more.
FOOTBALL STADIUM SOUND SYSTEMS
A clear sound system transforms the game. Go from good to great with Nevco's Stadium Pro™ sound series, specifically designed for the athletic market. This single-point sound system, located at the scoreboard, allows football fans to tune into the game like never before.
LED MESSAGE CENTERS FOR FOOTBALL
LED message centers not only engage football fans, they increase sponsorship and ad revenue with nearly limitless ad space. LED message centers can be part of a new football scoring solution or retrofit into your current scoreboard.
FOOTBALL RIBBON BOARDS & LED FASCIA
An LED ribbon board display helps further amplify game day by displaying digital messages or graphics throughout the venue. All digital screens can be operated through one universal content management system, Display Director, for easy game-day operations. Whether you're displaying sponsor ads,  football game scores and stats, or important messages, an LED ribbon board ensures your football fans have the ultimate game day experience.
A TOUCHDOWN FOR FOOTBALL SCORING
When you see how other teams customize their football scoreboard, it's easy to imagine what can be done to your board
THE NEVCO DIFFERENCE
We understand that a new scoring system is a big investment. It's why we take pride in delivering a scoring solution that's spot on for your team, and why we stand by every product.

FREE FACILITY ASSESSMENT
Our customization process ensures you get exactly what you want.
99.9% ON-TIME DELIVERY
We deliver your scoring solution on-time right when you expect it.

LOWEST COST OF OWNERSHIP
Get the most from your investment, backed by a 5-year warranty.

ONE CALL FOR SOLUTIONS & SUPPORT
As an integrated manufacturer, we are the only call you need to make.
HIGHEST QUALITY COMPONENTS
Nevco's U.S. manufacturing plants utilize the UL certification process ensuring product safety.
FUNDING OPTIONS
Get assistance in buying your next scoring solution.
SPORTS MARKETING
With sports marketing, your scoreboard can pay for itself. We can help you get new equipment and create new revenue streams through sponsorships and advertising.
LEASING
Nevco has many options to make your investment affordable. We can work with you to find a solution that fits into any budget.
BUYING CO-OP
Nevco partners with national and local buying cooperative memberships to provide customers an easy way to meet bid compliance requirements and offer discounted pricing on our most popular products.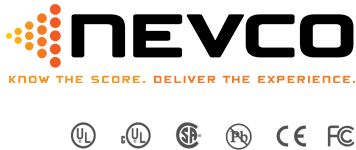 WE GUARANTEE A WIN
Nevco scoreboards, marquees, message centers, Stadium Pro loudspeaker enclosures and video boards* are guaranteed for a period of five (5) years* from the date of invoice against defects in workmanship or material and will be replaced or repaired without cost to the owner provided the equipment or parts (which includes LED segments) are returned postage-paid to the Nevco factory.