BRANDON WHEAT KINGS TEAM UP WITH NEVCO TO DELIVER VIDEO DISPLAY AND SCORING SOLUTION TO WESTOBA PLACE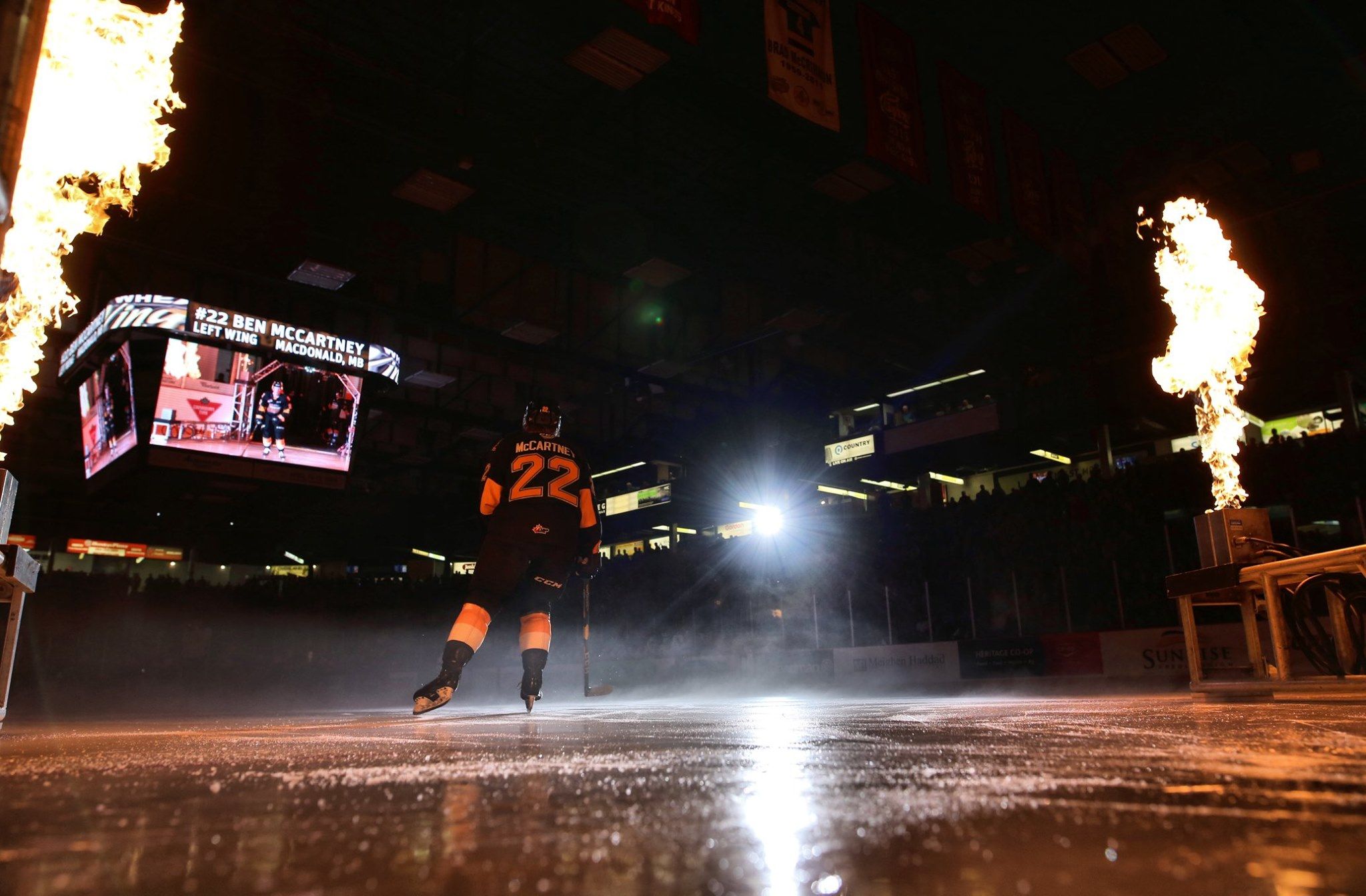 GREENVILLE, IL, September 27, 2019 – The Brandon Wheat Kings of the Western Hockey League (WHL) teamed up with Nevco to deliver a Video Display and Scoring Solution to Westoba Place, the main arena inside the Keystone Centre in Brandon, MB.
The Keystone Centre is a multi-purpose facility which is home to Westoba Place, a 5,102 seat ice arena which primarily serves as the home of the Brandon Wheat Kings. The world class arena has played host to numerous events including the Memorial Cup Playoffs, World Junior Ice Hockey Championships, and the Men's and Women's World Curling Championships.
Capturing the attention of crowds at Westoba Place starting the 2019-2020 season will be a four-sided, full color, 6mm Nevco LED Video Display which extends 9'H and spans more than 16'W. Hung above the center-ice face-off circle, the video display is designed to captivate audiences with an astounding 1.47 million pixels which can be seen from every viewing angle in the arena with unparalleled brilliance and clarity. The structure is accented with non-illuminated signage below the video screens, in addition to non-illuminated wedge panels between the video screens.
Above the four-sided video display is a free-floating, full color, 10mm Nevco LED Video Ring standing almost 3'H, with a diameter of over 25'. The video ring delivers more than 225,000 dazzling pixels to grab the attention of fans. The video display and video ring are controlled through Motion Rocket Sports Video Control System Software, giving the Wheat Kings game-day operations staff the ability to showcase thrilling live in-game action, instant replays, vibrant animated graphics, and more.
"We are proud to be able to work with the Keystone Centre and the Brandon Wheat Kings to enhance Westoba Place with some fantastic new technology," said Nevco Sports Video Regional Manager, Jeff Besserman. "The new video display give the Keystone Centre flexibility in the entertainment that they bring in and will help to deliver a truly remarkable and memorable experience for everyone in attendance."
To further enhance the video display and video ring, the Wheat Kings worked together with Nevco's HYPE Creative Services to develop and create numerous custom branded graphics including logo animations, fan prompts, and interactive games to engage fans and create an electric game-day atmosphere.
The new state-of-the-art video display features the ability to retract into the video ring allowing for more flexibility in productions, which opens a wide variety of opportunities for potential new shows at the facility.
"The enhancements in the new video score clock are going to go a long way in improving the fan experience at Westoba Place," said Brandon Wheat Kings Director of Marketing, Matt McNish. "We can't wait to unveil it at our home opener on September 20th against the Winnipeg Ice."
Additionally, Westoba Place will be fully outfitted with Nevco's hockey goal light system, locker room clocks, and a Model 4770 Hockey LED Scoreboard featuring Electronic Team Names which can be changed for each game played at the facility.
The new Nevco Video Display and Scoring Solution made its debut in the Brandon Wheat King's home opener at Westoba Place on September 20 against the Winnipeg Ice. Check out the photos below to see the Video Display and Scoring Solution in action, and be sure to check out nevco.com to see more live install photos!
About Nevco: Nevco is the largest private manufacturer and provider of video display, scoring and audio solutions. For over 80 years, Nevco has provided colleges, universities, high schools, park and recreation groups, and other organizations with the most innovative scoring and LED video display products in the industry. Nevco is known for its specialty in designing custom facility solutions, quality of products, and superior long term financial value. Today, Nevco scoreboards, message centers and video displays are used to enhance the fan experience at events in more than 100,000 locations around the world. 
 About the Keystone Centre: The Keystone Centre strives to be the premier service oriented, multi-functional, community minded facility in Manitoba, hosting sporting and entertainment events, fairs and agricultural exhibitions, conferences and conventions, clubs and community activities. To learn more about the Keystone Centre visit www.keystonecentre.com.