LED VIDEO DISPLAYS
In today's highly digital age, sports venues have a unique opportunity to integrate some of the best visual technologies available to amplify game day. As the visual centerpiece of any given match, impactful LED video displays are transforming fan experience and redefining modern sports venues. Plus, the ability to integrate corporate partners into the game drives both fan engagement and brand exposure.
The end-to-end solutions we offer at Nevco help you create a dynamic platform for immersive content that will delight fans everywhere. With an LED video board, you can let your creativity shine. Whether you choose to show custom-made graphics, in-house team introduction videos, or sponsor messaging, an LED display will provide an unforgettable experience.
LED video boards provide you with unlimited opportunities to communicate key messages, display game stats, take advantage of sponsorship and advertising opportunities, and captivate your audience like never before. Integrate video displays, stadium sound, message centers, scorers tables, and marquees to truly maximize your impact and provide your fans with countless on-their-feet moments.
CREATE A 360 DEGREE EXPERIENCE WITH LED VIDEO DISPLAYS AND AUDIO SOLUTIONS
INDOOR LED DISPLAYS
Give your arena everything it can handle with indoor video display customization options. Whether it's jaw-dropping, center-hung video displays, dynamic message centers featuring a vast library of animations, or customized scorers tables—virtually nothing is out of bounds. We're certain we can create a personalized indoor video display solution perfect for your play level, budget, and facility size.
Capture near endless opportunities to generate revenue through sponsorships and advertising. Whether you choose a standalone indoor video display or create a scoring system that includes an LED board and static scoreboard, fans will never miss a second of the action.
OUTDOOR LED DISPLAYS
Take it outside with vibrant, state-of-the-art video displays in full-color LED. Nevco's outdoor LED video boards and scoreboards are manufactured with the highest quality weather-resistant components that can withstand even the harshest conditions. Outdoor LED displays allow you to revolutionize your game day and increase fan engagement by featuring cheer prompts, sponsor messages, instant replays, and delightful graphics.
For multi-sport venues, Nevco offers Intelligent Caption scoreboards that automatically change team names and captions to match the sport you're playing. Now every team that plays on the field can have their own personalized scoreboard.
LED VIDEO DISPLAYS FOR COLLEGES AND UNIVERSITIES
We understand the inner-workings of collegiate operations and facilities. We'll listen to your current game-day challenges and vision for the future. We'll work side by side with you to design a turn-key video display and scoring solution that will give you a home field advantage like never before.
The custom sports display and sound solutions we design will make a lasting impression, demand attention from visitors, and increase fan engagement. Implementing real-time data in high-resolution along with imagery, graphics, and video are sure to deliver the game day experience college sports fans have come to expect.
RIBBON BOARDS & LED FASCIA
An LED ribbon board display helps further amplify game day by displaying digital messages or graphics throughout the venue. All digital screens can be operated through one universal content management system, Display Director, for easy game-day operations. Whether you're displaying sponsor ads, game scores and stats, or important messages, an LED ribbon board ensures your fans have the ultimate game day experience.
STADIUM SOUND
Turn up the crowd and the home team energy with concert-quality stadium sound solutions that integrate with Nevco video displays and scoreboards. Our Stadium Pro™ Sound Series is custom designed for the athletic market to provide complete stadium coverage.
Announce players and coaches before each match, stats throughout the game, and sponsor messages with crystal sound clarity. Host half-time competitions, play music, and execute perfectly timed sound effects to keep fans on the edge of their seats with our stadium audio options.
INDOOR SOUND SYSTEMS
Nevco's loud, clear, and complete indoor sound systems: The Arena Pro series. Leverage industry-best audio technology to amplify your indoor events. Our Arena Pro 1000 and 2000 are custom-designed to reach the ears of everyone in the crowd, regardless of facility size.
The fully aimable speakers project the highest quality music and voice audio throughout your entire facility. All components are integrated and optimized by Nevco for a 100% turnkey audio system sound solution. Fully equipped with everything you need to wow your audience, the Arena Pro Sound Systems can turn up the volume at your venue.
NEVCO CREATIVE SERVICES
Feature your players, engage fans, and generate additional profits by using professional graphics. Our team has produced high-quality video graphics for some of the most recognizable teams in professional and collegiate athletics.
VIDEO DISPLAYS CHANGED THE GAME
"The new, one-of-a-kind LED Video Display will not only serve as a game-day enhancement for our Tiger community but will partner as an educational resource with endless hands-on opportunities to attract new students and bring interest to our Communications department. We are extremely pleased with the hard work and impressive attention-to-detail attitude the Nevco team put forth on this project since day one."
– Marc Newman, Vice President of Advancement, Research, and Economic Development at Grambling State University
THINKING ABOUT A VIDEO DISPLAY BUT DON'T KNOW WHERE TO START?
You're in good company. Nevco designs LED video boards for high schools, NCAA athletics, and professional teams, and we're here to help you. When you partner with us, an experienced Nevco video display consultant will work with you to assess your specific needs, explain LED video board options, and develop a plan to help you bring your vision to life. It's our goal to design a scoring system that suits your needs and keeps your fans coming back for more.
WE WORK TO UNDERSTAND YOUR GOALS
Understand the vision of all stakeholders
Create designs within budget that coincide with the goals and objectives of the video project
Educate you on the differences in various equipment options
Develop customized designs that help you convey your vision
WE GUIDE YOU THROUGH THE PROCESS
We work tirelessly until the design is PERFECT
Develop a comprehensive project plan inclusive of installation timeline and delivery
Provide mechanical and electrical drawings
Additional support with on-site training available
YOU RECEIVE TRAINING & SUPPORT
We provide complete 24-hour service support
Equipment upgrade as needs change (scoring, display, sound, & control)
Follow-up to ensure client satisfaction and be a continued resource
CREATE YOUR LED VIDEO BOARD AND SOUND SYSTEM PACKAGE TODAY
At Nevco, we work to provide you with a scoring solution that not only displays the essential information, but also attracts sponsors and makes the crowds cheer louder. The modern game day requires an immersive experience, and our customized LED video boards and stadium sound systems will transform fans from spectators to full-on participants.
Our quality products and superior customer service have allowed us to provide end-to-end scoring systems to a variety of sports venues for nearly nine decades. Let's work together to create the ideal LED video board and sound system package – contact us today to get started!
THE NEVCO DIFFERENCE
We understand that a new scoring system is a big investment. It's why we take pride in delivering a scoring solution that's spot on for your team, and why we stand by every product.

FREE FACILITY ASSESSMENT
Our customization process ensures you get exactly what you want.
99.9% ON-TIME DELIVERY
We deliver your scoring solution on-time right when you expect it.

LOWEST COST OF OWNERSHIP
Get the most from your investment, backed by a 5-year warranty.

ONE CALL FOR SOLUTIONS & SUPPORT
As an integrated manufacturer, we are the only call you need to make.
HIGHEST QUALITY COMPONENTS
Nevco's U.S. manufacturing plants utilize the UL certification process ensuring product safety.
FUNDING OPTIONS
Get assistance in buying your next scoring solution.
SPORTS MARKETING
With sports marketing, your scoreboard can pay for itself. We can help you get new equipment and create new revenue streams through sponsorships and advertising.
LEASING
Nevco has many options to make your investment affordable. We can work with you to find a solution that fits into any budget.
BUYING CO-OP
Nevco partners with national and local buying cooperative memberships to provide customers an easy way to meet bid compliance requirements and offer discounted pricing on our most popular products.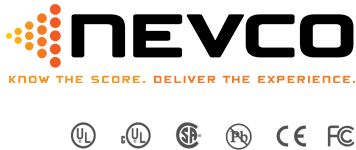 WE GUARANTEE A WIN
Nevco scoreboards, marquees, message centers, Stadium Pro loudspeaker enclosures and video boards* are guaranteed for a period of five (5) years* from the date of invoice against defects in workmanship or material and will be replaced or repaired without cost to the owner provided the equipment or parts (which includes LED segments) are returned postage-paid to the Nevco factory.