McNeese State University Scores With A New Nevco Video Display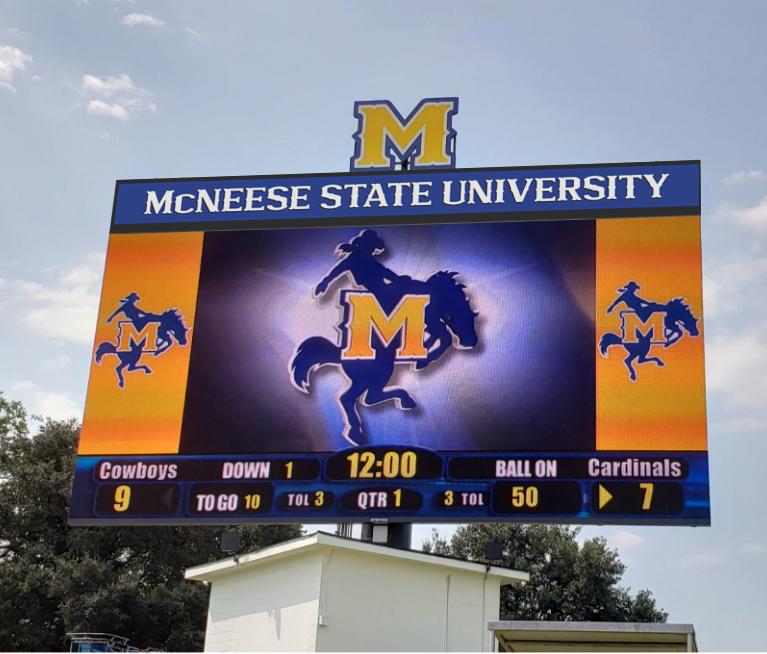 Greenville, IL – Cowboy Stadium, home of the McNeese State University Cowboys, will have a new look and feel. With a recent partnership with Nevco, McNeese State will upgrade their stadium and create a new home-field advantage with a Nevco 16mm full color video display. The new video scoring solution gives the Cowboy's one of the premier scoring set-ups in the Southeastern Conference.
For decades, McNeese State has enjoyed tremendous success on the football field, winning 14 conference championships, with the most recent in 2015. With a tradition of excellence, the athletic program has made a commitment to continue to provide the best for its student athletes and community. Tanner Stines, current Athletic Director, states "We take great pride in being competitive on the field, and it remains important for our athletic department to provide the best facilities for our athletes."
Come next football season will stand a new Nevco 16mm virtual scoring display that measures over 25'H and stretches 50'W designed to provide live-in game action, crowd engaging prompts, and endless revenue-generating opportunities for the University. The eye-popping display will provide a new game-day atmosphere and includes a new sound system through Gulf Coast Sound to further enhance the fan experience in Cowboy Stadium. Hidden away from the fan's eye, the display will be operated by utilizing MotionRocket video control software, which allows the Cowboy's game-day to be easily managed through one, universal operating system.
"From the start, working with McNeese has been a fantastic experience", said Eric Light, Nevco's Vice President of Sales and Marketing. "For over 85 years our number one commitment is to provide the best service and product. Being able to uphold that reputation for a program such as McNeese is an honor and we look forward to seeing the football display in action."
"The count-down is on. We cannot wait until football can resume safely and showcase our new scoring display", mentions Stines. "Working with the Nevco team was a great experience and we are thankful to work with a skilled and knowledgeable team."
As McNeese State awaits the return of football, the Nevco team will continue to be a resource to ensure the Cowboys are game-day ready. "We want the school and local community to be able to share in the excitement of the improved game-day experience," says Light. With new fan engagement experiences and revenue generating opportunities, McNeese will have an exciting new football atmosphere to share.
With the 2020 Fall football season postponed, McNeese State and the rest of the Southland Conference will look toward a spring season kick-off.