Alico Arena, Home of the Florida Gulf Coast University Eagles, worked with Nevco to give their fans an unforgettable game-day experience with the addition of a custom 4-Face 8'H x 12'W Nevco LED video display complete with a 2'H x 11'W 360 degree LED video ring and brushed aluminum 3D letters and logos on the wedge panels. The FGCU Eagles also added Nevco Display Director Software, Nevco LED Scorers Tables, a custom auxiliary scoreboard complete with Electronic Team Names, slim shot clocks, end of period lights and locker room clocks.
Click the link below to read more about the upgrades made to Alico Arena!
Florida Gulf Coast University
Florida, Ft. Myers
THIS MODEL CAN SCORE THE FOLLOWING SPORTS:
USA & CANADA
1-800-851-4040
INTERNATIONAL
1-618-664-0360
CONTACT US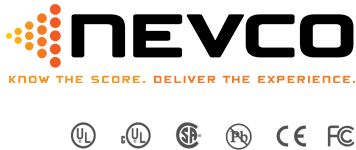 WE GUARANTEE A WIN
Nevco scoreboards, marquees, message centers, Stadium Pro loudspeaker enclosures and video boards* are guaranteed for a period of five (5) years* from the date of invoice against defects in workmanship or material and will be replaced or repaired without cost to the owner provided the equipment or parts (which includes LED segments) are returned postage-paid to the Nevco factory.