Kinkaid School in Houston, TX teamed up with Nevco to light up Barnhart Stadium with a Model 3619 Scoreboard in Medium Purple with Golden Yellow Striping. The scoreboard features Amber and Red Digits, including Amber Electronic Team Names, a custom-imprinted school logo and ADO Signage up top prominently displaying "Kinkaid Home of the Falcons" with the school logo flanking each side. The upgrade was completed with a set of FT-24-T14 Field Timers in Medium Purple with Golden Yellow Striping.
Kinkaid School
Texas, Houston
THIS MODEL CAN SCORE THE FOLLOWING SPORTS:
USA & CANADA
1-800-851-4040
INTERNATIONAL
1-618-664-0360
CONTACT US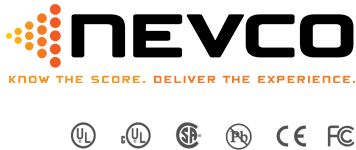 WE GUARANTEE A WIN
Nevco scoreboards, marquees, message centers, Stadium Pro loudspeaker enclosures and video boards* are guaranteed for a period of five (5) years* from the date of invoice against defects in workmanship or material and will be replaced or repaired without cost to the owner provided the equipment or parts (which includes LED segments) are returned postage-paid to the Nevco factory.