Scorers Table: Model ST-4-RL (Rear-Lit)
The 4-ft rear-lit scorers table is the most flexible scorers table available. The product can be locked together with other Nevco scorer tables (non-lit, rear-lit or LED) to make a longer seamless custom scorers table. The 4-ft length is ideal to flank and extend 8-ft or 10-ft tables, however it can also be used as a free-standing table at the ends of a court (as a table for press, for example).
Nevco Scorers Tables offer a great opportunity for display advertising and graphics that get the crowd and players excited. The Nevco 3-in-1 Scorers Table is the most flexible scorers table solution on the market today. The 3-in-1 scorers table can be upgraded from non-lit to rear-lit to LED quickly and easily using a cartridge-based system. Additionally, the 3-in-1 table can grow over time by combining and interlocking with other 3-in-1 scorers tables to expand in to a longer, seamless table.
Check out table options that fit virtually every budget.
The Industry's Only Upgradable Scorers Table
3 OPTIONS:
Non-Lit: basic non-lit image printed on impact resistant face
Rear-Lit: brighter upgraded look using state-of-the-art LED backlighting
LED: digital display with high resolution 10mm SMD technology
CARTRIDGE-BASED CONCEPT:
Take out non-lit cartridge and replace with rear-lit or LED cartridge
Upgrade your table for a fraction of the cost vs. competition
EXPAND:
Unique ability to add/combine options into seamless product
Add on additional table segments at any time
Mix and match table types: non-lit, rear-lit and LED segments
Maximize customer options and budget
Features and Benefits:
Upgradable (Non-Lit, Rear-Lit, LED)
Expandable (8′ or 10′ sections)
Proven, Unique Transport System
Safe, secure rubber footings
Heavy-duty steel and aluminum construction
Industrial powder coat finish
Integrated power strip and media wire tray
Durable and lightweight
Heavy-duty padding available in your choice of any of our standard 15 color options
Multiple outlet power strip
Moving messages get attention
Variety of sizes to fit any budget
Enhanced sponsorship
Important messages
Crowd-exciting animations
Wide viewing angle
Adaptable for easy installation
PRODUCT DETAILS
DIMENSIONS: 4ft x 3ft x 34in
COLORS: Electronic Blue Semi-Gloss, Forest Green Semi-Gloss, Gray Semi-Gloss, Jet Black Semi-Gloss, Kelly Green Semi-Gloss, Maroon Semi-Gloss, Midnight Blue Semi-Gloss, Navy Blue Semi-Gloss, Orange Semi-Gloss, Purple Semi-Gloss, Red Semi-Gloss, Royal Blue Semi-Gloss, Tan Semi-Gloss, Teal Semi-Gloss, Yellow Semi-Gloss
CAPTION TYPE: Non-Lit or Rear-Lit (shown above)
THE NEVCO DIFFERENCE
We understand that a new scoring system is a big investment. It's why we take pride in delivering a scoring solution that's spot on for your team, and why we stand by every product.

FREE FACILITY ASSESSMENT
Our customization process ensures you get exactly what you want.
99.9% ON-TIME DELIVERY
We deliver your scoring solution on-time right when you expect it.

LOWEST COST OF OWNERSHIP
Get the most from your investment, backed by a 5-year warranty.

ONE CALL FOR SOLUTIONS & SUPPORT
As an integrated manufacturer, we are the only call you need to make.
HIGHEST QUALITY COMPONENTS
Nevco's U.S. manufacturing plants utilize the UL certification process ensuring product safety.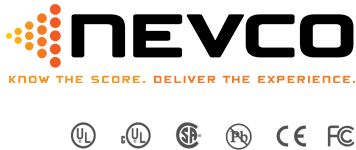 WE GUARANTEE A WIN
Nevco scoreboards, marquees, message centers, Stadium Pro loudspeaker enclosures and video boards* are guaranteed for a period of five (5) years* from the date of invoice against defects in workmanship or material and will be replaced or repaired without cost to the owner provided the equipment or parts (which includes LED segments) are returned postage-paid to the Nevco factory.