Yale University in New Haven, CT, has added several new Nevco products to their amphitheater.  Among those products are 2 Nevco 2700ETN Scoreboards, SSC-T5 Shot Clocks double sided, 4-10 foot Scorers Tables with 2-6mm Video Displays, 9.83'h x 18.02'w 3.9mm each, End of Period Lights and Locker Room Clocks.
Yale University – John J. Lee Amphitheater
New Haven, Connecticut
THIS MODEL CAN SCORE THE FOLLOWING SPORTS:
USA & CANADA
1-800-851-4040
INTERNATIONAL
1-618-664-0360
CONTACT US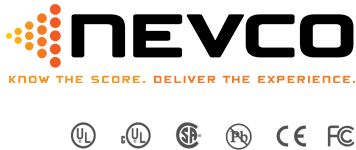 WE GUARANTEE A WIN
Nevco scoreboards, marquees, message centers, Stadium Pro loudspeaker enclosures and video boards* are guaranteed for a period of five (5) years* from the date of invoice against defects in workmanship or material and will be replaced or repaired without cost to the owner provided the equipment or parts (which includes LED segments) are returned postage-paid to the Nevco factory.