Mechanicsburg High School in Mechanicsburg, OH partnered with Nevco to light up its field with a full-color 16mm LED Video Display measuring 13.05'H x 22.o5'W. Over 100,000 pixels are offering an immersive experience for the Indians and their fans through up-close views of the action, highlights, sponsorships, engaging graphics and prompts and more from Nevco Creative Services. The display sits atop a Model 3685 Intelligent Caption™ Scoreboard in Print Black with White LED Digits, custom striping and a custom imprint of the school logo. The bottom features 24 x 4 ADO Signage for sponsorship spots and topping off the entire scoring solution is a Stadium Pro 1000™ Sound System with custom-imprinted front mesh scrim proudly displaying "Mechanicsburg Indians". The upgrades were completed with DGT-6-T14 Field Timers.
Mechanicsburg High School
Ohio, Mechanicsburg
THIS MODEL CAN SCORE THE FOLLOWING SPORTS:
USA & CANADA
1-800-851-4040
INTERNATIONAL
1-618-664-0360
CONTACT US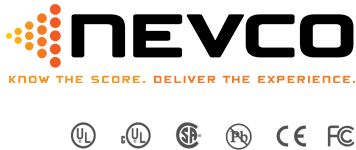 WE GUARANTEE A WIN
Nevco scoreboards, marquees, message centers, Stadium Pro loudspeaker enclosures and video boards* are guaranteed for a period of five (5) years* from the date of invoice against defects in workmanship or material and will be replaced or repaired without cost to the owner provided the equipment or parts (which includes LED segments) are returned postage-paid to the Nevco factory.