The Livingston Academy in Livingston, TN partnered with Nevco to install this Model 3685 Royal Blue Scoreboard with White Striping, Red Digits, and Intelligent Captions™ and across the bottom is a 24 x 4 ADO sign showing sponsor Cookeville Honda.  The fans will be excited to see that transformation of their game-day also includes a 16mm 11.47 x 15.75 Video Display, flanked on each side with custom imprinted 4.125 x 11.47 ADO signs. Above the Video Display they added a Stadium Pro 1000™ sound system with a custom full mesh scrim proudly displaying Livingston Academy Wildcats and topping it off is a 4 x 24 Arched Truss with 4 x 4 custom decorative school logo.
Livingston Academy
Livingston, Tennessee
THIS MODEL CAN SCORE THE FOLLOWING SPORTS:
USA & CANADA
1-800-851-4040
INTERNATIONAL
1-618-664-0360
CONTACT US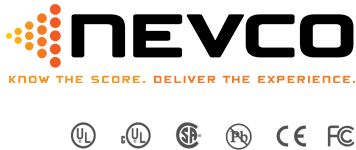 WE GUARANTEE A WIN
Nevco scoreboards, marquees, message centers, Stadium Pro loudspeaker enclosures and video boards* are guaranteed for a period of five (5) years* from the date of invoice against defects in workmanship or material and will be replaced or repaired without cost to the owner provided the equipment or parts (which includes LED segments) are returned postage-paid to the Nevco factory.