Liberty Hill High School in Liberty Hill, TX teamed up with Nevco to light up Jerry Vance Field at Panther Stadium with a full-color 10mm LED Video Display, spanning 16.2'H x 34.65'W. The display, which features over 506,000 pixels of engaging graphics and prompts from Nevco Creative Services and FinishLynx fully-automatic timing software, sits atop a custom 36′ Intelligent Caption™ LED scoreboard with mixed Amber, White and Red digits. Aligning both sides are eight ADL signs measuring 8'W x 5.8'H for sponsorships, beneath the scoreboard is a 36×2 ADL sign and the top proudly showcases a 7×7 ADL sign of the school logo at the center along with two 14.5'W x 5.5'H ADL signs flanking each side reading "Panther" and "Stadium". The top of the video scoring solution also features a pair of 8×5 custom audio cabinets. The upgrades at Liberty Hill were completed with a set of of FT-24-T14 Field Timers with Red and Amber digits.
Liberty Hill High School
Texas, Liberty Hill
THIS MODEL CAN SCORE THE FOLLOWING SPORTS:
USA & CANADA
1-800-851-4040
INTERNATIONAL
1-618-664-0360
CONTACT US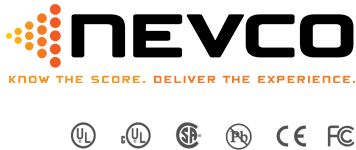 WE GUARANTEE A WIN
Nevco scoreboards, marquees, message centers, Stadium Pro loudspeaker enclosures and video boards* are guaranteed for a period of five (5) years* from the date of invoice against defects in workmanship or material and will be replaced or repaired without cost to the owner provided the equipment or parts (which includes LED segments) are returned postage-paid to the Nevco factory.