La Feria ISD in La Feria, TX partnered with Nevco to light up Lion Stadium with a full-color 10mm LED Video Display measuring 16.2'H x 34.65'W and featuring over 506,000 pixels of engaging graphics and prompts and more from Nevco Creative Services. The display is complimented by a 10mm LED Ribbon Board (3.6'H x 34.65'W) to further enhance the solution, which is displayed beneath a custom 36′ Intelligent Caption™ Strip Scoreboard in Maroon with Golden Yellow Striping and mixed LED Digits. Above the display is a 36×4 ADL Sign providing a space for sponsorships and above that is a Stadium Pro 2000™ Sound System with custom-imprinted front mesh scrim proudly displaying "Lion Stadium". A 4×8.5 Decorative Split Arch Truss also tops off the solution with a pair of 5×5 rear-lit flanking truss school logos to further add to the pride of Lions fans. The upgrades at La Feria were complete with a set of FT-24-T14 Field Timers.
La Feria ISD
La Feria, Texas
THIS MODEL CAN SCORE THE FOLLOWING SPORTS:
USA & CANADA
1-800-851-4040
INTERNATIONAL
1-618-664-0360
CONTACT US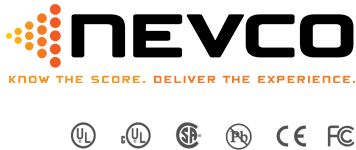 WE GUARANTEE A WIN
Nevco scoreboards, marquees, message centers, Stadium Pro loudspeaker enclosures and video boards* are guaranteed for a period of five (5) years* from the date of invoice against defects in workmanship or material and will be replaced or repaired without cost to the owner provided the equipment or parts (which includes LED segments) are returned postage-paid to the Nevco factory.