Suffolk University installed a Model 3685 Intelligent Caption Scoreboard, shown with baseball and soccer captions.  They added Non-Illuminated Signs above and below the board for field identification, school recognition, and future sponsorship space. On the back of the scoreboard they added a message center with flanking signs.
Suffolk University
Massachusetts, Boston
THIS MODEL CAN SCORE THE FOLLOWING SPORTS:
USA & CANADA
1-800-851-4040
INTERNATIONAL
1-618-664-0360
CONTACT US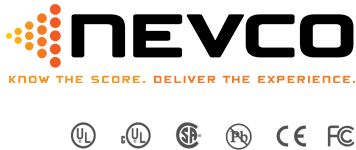 WE GUARANTEE A WIN
Nevco scoreboards, marquees, message centers, Stadium Pro loudspeaker enclosures and video boards* are guaranteed for a period of five (5) years* from the date of invoice against defects in workmanship or material and will be replaced or repaired without cost to the owner provided the equipment or parts (which includes LED segments) are returned postage-paid to the Nevco factory.