North Central College in Naperville, IL enhanced Jay & Dot Buikema Track with a 17.77'H x 34.65'W 16mm Video Display comprised of over 217,000 pixels. Below the display sits a custom scrim displaying JAY & DOT BUIKEMA TRACK, while a Stadium Pro™ 2000 Sound System rests above the display with a front mesh face scrim displaying DON DEETJEN MEMORIAL SCOREBOARD. Completing the display is a Decorative Arch Truss with Truss Letters spelling out CARDINALS, prominently placed on top. The Cardinals additionally placed a DGT-6-T14 Delay of Game Timer to the right of the main display.
North Central College
Illinois, Naperville
THIS MODEL CAN SCORE THE FOLLOWING SPORTS:
USA & CANADA
1-800-851-4040
INTERNATIONAL
1-618-664-0360
CONTACT US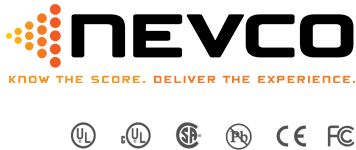 WE GUARANTEE A WIN
Nevco scoreboards, marquees, message centers, Stadium Pro loudspeaker enclosures and video boards* are guaranteed for a period of five (5) years* from the date of invoice against defects in workmanship or material and will be replaced or repaired without cost to the owner provided the equipment or parts (which includes LED segments) are returned postage-paid to the Nevco factory.